Read more articles by Press Association
Don't miss any action. Sign up for the free BN newsletter(s) here
ANTHONY JOSHUA insists he is "still a street kid at heart" as he continues his quest to be crowned undisputed world heavyweight champion by the end of the year.
Joshua has earned plenty of plaudits for the way he has conducted himself since he shot to fame by dethroning Wladimir Klitschko at Wembley last April.
But his increased profile has led to inevitable challenges which the 28-year-old Londoner insists he is only too happy to confront.
"My mama always said, 'Life was like a box of chocolates. You never know what you're gonna get." ? pic.twitter.com/aMwMdativn
— Anthony Joshua (@anthonyfjoshua) January 11, 2018
Speaking on this week's 'Graham Norton Show', Joshua said: "I keep things separate – there is me in the ring then there is my family and being an ambassador of the sport outside the ring.
"Some people can't make that distinction and approach me in an over-confident and rough way.
"I'm still a street kid at heart – don't let the nice suit fool you – so I have to balance not slamming them back, while letting them know I am not to be fooled with."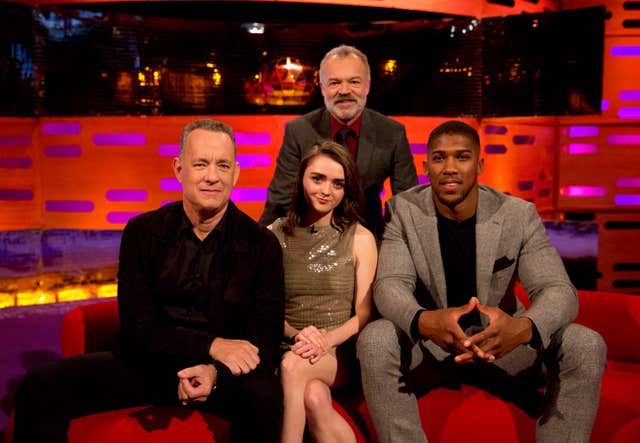 Joshua appeared alongside Tom Hanks and Maisie Williams on The Graham Norton Show
Joshua is poised to agree terms to meet reigning WBO champion Joseph Parker, possibly in Cardiff in March, before moving on to target current WBC title-holder Deontay Wilder.
Asked if he intended to claim all the belts before the end of 2018, Joshua added: "That's the plan. I'm working on it."